Rochester is one of the most beautiful and tranquil cities in the state of New York.
The city provides excellent jobs and business opportunities thanks to its great economy.
The schools and colleges are excellent and they provide high-quality programs and classes suitable for everyone.
Sponsored Listings
Phlebotomists annual average salary in New York is $37,869 - ABOVE U.S. AVERAGE!
Bryant & Stratton College

About the School
Bryant & Stratton College, a private nonprofit institution, offers a personalized career education and experience leading to high-demand professions so graduates are prepared for their career and life pursuits.
The College has partnered with today's employers to find out what they want and are looking for in employees, and it gives its students that knowledge by developing courses around career-specific competencies and essential workplace skills to provide a competitive advantage in the workplace.
Its degree programs represent the career options its students are interested in, ranging from accountants and business managers to nurses and paralegals.
Class schedules are flexible, with on-campus daytime, evening, and weekend options and online programs enabling students to earn an education in a way that fits their lives.
Courses Offered
The phlebotomy training program is an excellent career choice that will quickly provide you the chance to enter the medical field.
Coursework that highlights the ethics, terminology and practice needed for the phlebotomy field complements online and hands-on training, to provide a well-rounded program that provides students with the framework needed to succeed in phlebotomy jobs upon completion of the certificate.
The program combines basic medical knowledge with hands on training focused on drawing blood and the proper procedures for collecting and storing samples and specimen.
The course also prepares students to sit for the Certified Phlebotomy Technician exam.
Through the phlebotomy program, you will gain the understanding in key areas of infection control along with basic ethical standards set forth in the industry.
Visit School Website

Address: 110 Broadway, Buffalo, NY 14203
Monroe 2-Orleans Boces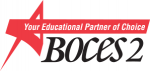 About the School
Monroe 2-Orleans Boces is part of a very large and developed educational community that has branches in many cities all over the country.
This branch provides one of the coziest and most modern campuses in the state and it also offers the chance to learn from amazing teachers.
All the programs have national recognition and they take a very short time to complete.
Courses Offered
The phlebotomy training takes just 14 weeks of training or 124 clock hours and the tuition is 2,695 USD and includes the needed books and supplies.
You will learn the following:
The role of the phlebotomist
Patient identification
Collection and preparation of blood and body fluid specimens
Maintenance of records and collection areas
Anatomically correct arms, prosthetics and human blood draws will be used in this program.
Classes are scheduled on Tuesdays, Wednesdays, and Thursdays from 5:30 pm to 8:30 pm.
Using the "learn while you earn" model, this evening class allows you to work while you're taking classes and is designed to train anyone looking for a new career and/or those already working the healthcare field who are looking to gain new skills.
At the end of this program you will be ready for any entry-level phlebotomy position.
Visit School Website

Address: 3589 Big Ridge Road, Spencerport, NY 14559
Rochester Educational Opportunity Center

About the School
The SUNY EOCs are a system of educational enterprises that serve eligible adult learners.
As part of this system, the Rochester Educational Opportunity Center delivers comprehensive, community-based academic and workforce development programs and provide support services leading to enhanced employment opportunities, access to further education, personal growth and development.
To maintain a high-quality learning environment, REOC focuses on teaching excellence, student learning, career development and technological initiatives.
REOC pursues excellence and quality in education and training through collaboration, continuous improvement, student and customer satisfaction and innovation.
Courses Offered
The phlebotomy program provides outstanding job opportunities and it takes just a few weeks to complete.
The 4-week program provides individuals with the knowledge of venipuncture and other phlebotomy-related terminology.
Classes are scheduled on Tuesdays and Thursdays from 4:00 pm to 8:00 pm.
Participants will learn, practice and develop performance skills in a variety of blood collection methods using proper techniques and universal precautions.
You will learn the following:
Drawing blood from patients and blood donors
Evaluating patients' ability to withstand the procedure and helping them feel comfortable
Explaining the blood-drawing procedure to patients and answering questions
Performing basic point-of-care testing, such as reading blood glucose levels Preparing blood, urine, and other specimens for testing
Maintaining medical equipment such as needles, test tubes, and blood vials
There is a program emphasis on infection prevention, proper patient identification, labeling of specimen and quality assurance, specimen handling, processing, and accessioning.
You will be required to acquire the draws (30 successful venipunctures and 10 capillary finger sticks) needed for certification.
Visit School Website

Address: 161 Chestnut Street Rochester, NY 14604
---
Phlebotomy Schools by City in New York
See all schools in New York >