Buffalo is one of the most beautiful and dynamic cities in the state of New York.
The city offers some of the best economic opportunities and a great business sector.
The educational facilities are excellent and you will easily find the perfect place to start a new career.
Sponsored Listings
Phlebotomists annual average salary in New York is $37,869 - ABOVE U.S. AVERAGE!
State University of New York Erie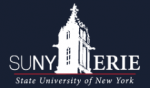 About the School
At the State University of New York Erie, you will discover some of the best educators and teachers in the whole region.
The state university has more than 80 associate degree, certificate, joint, and online programs in the most in-demand areas including Business, Engineering, Advanced Manufacturing, Health Sciences, STEM, Hospitality and more.
It offers flexible scheduling options, including full and part time study; day, evening and weekend classes; and programs that are offered partially or fully online.
The educational board is very dedicated to helping each student reach their full potential and get skills and knowledge for a lifetime.
The local campus is fantastic and you will have lots of fun while crafting a new future.
Courses Offered
The phlebotomy program is among the most popular thanks to the fact that it takes just a few weeks of training and it will help you get into a fast-developing medical sector.
This course involves the role of the phlebotomist in facilitating the specimen collection process.
Classroom and laboratory instruction concentrate on venipuncture using simulated arms and micro-collection techniques.
You will learn the following:
Select appropriate veins and demonstrate proper collection techniques by venipuncture on adults
Select appropriate collection systems for dermal punctures in the adult, child and newborn
Demonstrate proper microcollection techniques in the adult
Relate the importance of collection criteria, specimen storage and transport for routine and special tests
Recognize the need for specialized collection techniques, the complications and special considerations associated with blood collection
Qualify for certification/registration examination offered by the National Association of Health Professionals
Introduction to point of care testing and waived category tests; quality management and liability risk management is also included.
In addition, the college will also assist you with job hunting.
Visit School Website

Address: 121 Ellicott Street Buffalo, NY 14203
Buffalo Center for Arts & Technology

About the School
Buffalo Center for Arts and Technology is based on a nationally recognized arts and training center.
BCAT provides resilient learners needing targeted supports with educational and career-centered opportunities in an environment of hope and discovery.
The center mentor and prepare adults to secure new career pathways.
It motivates high school youth to stay in school, explore their creativity and identity, and plan for their future through an arts and technology afterschool program.
It aims to provide opportunities for careers through the arts, technology and workforce development.
Courses Offered
The phlebotomy technician program is designed to teach the technical and procedural aspects of basic phlebotomy, including collection of blood specimens and venipuncture required to become a phlebotomy technician.
The program includes theory and hands-on instruction.
BCAT offers this program at no cost to participants.
Tuition, fees and books are covered by scholarships from its funders.
You will learn the following:
Basic human anatomy and physiology
Phlebotomy technique
Compliance with legal and ethical standards
Safety in phlebotomy
Infection control
Workforce readiness and more
This is an evening class, offered Mondays and Wednesdays from 5:30 PM to 8:30 PM for 5 months.
Visit School Website

Address: 1221 Main Street in Buffalo, NY
Trocaire College

About the School
One of the foremost goals of Trocaire College is to encourage its students to change not only their lives, but also the lives of others in our greater Buffalo community.
Its programs are career oriented and market driven, constantly evolving to provide the most cutting-edge information.
Its small, student-centered institution is a nurturing and encouraging community that educates effectively and persistently.
At Trocaire, you will find a community ready to nurture your ambition and talent while preparing you for careers of service.
Courses Offered
Through the phlebotomy program at Trocaire that takes just a few months to complete, a small time commitment may result in your mastering of an important skill that can add to your clinical expertise, open new doors to you or initiate a change in career.
The tuition fee for the phlebotomy program costs 1,800 USD.
Offered by Trocaire College's Office of Workforce Development, Continuing Education and Lifelong Learning, this 10-week course provides both quality classroom instruction and hands-on laboratory experiences.
3 weeks of full-time clinical hours in a local hospital or laboratory are also required.
You will learn the following:
Basic anatomy and physiology
Specimen collection, transport and processing
Laboratory testing
Infection control and safety
Quality control
Professionalism and healthcare delivery
Completion of this course will prepare you for all entry-level phlebotomy competencies as well as give you eligibility to sit for the National Certifying Exam.
A Trocaire College certificate of completion will be issued upon satisfying all course requirements.
Visit School Website

Address: 360 Choate Avenue Buffalo, NY 14220
---
Phlebotomy Schools by City in New York
See all schools in New York >