New York city is one of the most famous cities in the world thanks to its amazing beauty and atmosphere.
The city has a great economy and some of the best businesses and jobs in the world.
The educational system is rated as one of the best in the state and you will have plenty of schools to choose from.
Sponsored Listings
Phlebotomists annual average salary in New York is $37,869 - ABOVE U.S. AVERAGE!
TIA School of Allied Health

About the School
TIA School of Allied Health is an academic training company based in New York City.
It provides quality education in a safe and assuring environment.
The school assists its students in developing skills to become independent, mature and self-sufficient adults who will succeed and contribute to the community.
It provides its students with the latest knowledge and skills that keeps them at par with any changes in their careers.
The school keeps abreast with new cutting edge technologies and paradigms.
Courses Offered
The phlebotomy training program will help you quickly learn all the skills and theory needed to have a successful career.
Students interested in pursuing a career as a Phlebotomy Technician will be able to demonstrate various methods of phlebotomy such as the following:
Vacuum method for venous blood withdrawal
Blood withdrawal for glucose level
The proper use of a centrifuge, proper use of a hemoglobinometer and obtain a hemoglobin level.
The proper use of a glucometer to obtain a glucose level
The phlebotomy technician course costs 699 USD and is scheduled to be completed in 3 weeks.
Upon successful completion of this phlebotomy class in New York City, you will be able to take the National Healthcareer Association exam and become a Nationally Certified Phlebotomist.
The course is taught as a live in-person class with many hands-on labs to ensure you have the right skills to succeed on the certification exam and in the real world.
The school has many partners that will help you get an entry-level job as soon as possible.
Visit School Website

Address: 545 8th Avenue, Suite 400, New York, NY 10018
New York Medical Career Training Center

About the School
In 1997 Doctor Nand Panjwani opened the New York Medical Career Training Center.
The founder's love and dedication for the medical field inspired him to provide training to people who are willing to dedicate themselves to the medical field.
Dr. Panjwani believes he must provide quality training to his students in order for him to be successful.
To accomplish this Dr. Panjwani consistently evaluates the Medical Curriculum with industry specialists, rewrites the curriculum and hires qualified industry individuals to teach.
Courses Offered
The phlebotomy training program will prepare you for an extraordinary and popular medical career.
The 60-hour course concentrates on the proper techniques of blood drawing.
It also demonstrates the various methods utilized for blood drawing such as butterfly syringe, needle syringe, and evacuated tube system.
The course also consists of describing the terminology used to order laboratory tests and identifying and labeling the parts of the laboratory equipment.
You will have the opportunity to practice your phlebotomy skills on mannequin arms and most importantly you will have an opportunity to practice your technique under the supervision of their instructor.
In the few weeks of training you will learn all the skills and knowledge needed to build an amazing career.
Visit School Website

Address: 500 8th Ave. Suite 5N New York, NY 10018
Lehman College

About the School
Lehman College is the City University of New York's only four-year college in the Bronx, serving the borough and surrounding region as an intellectual, economic, and cultural center.
The College provides undergraduate and graduate studies in the liberal arts and sciences and professional education within a dynamic research environment.
With a diverse student body of more than 14,000 students and more than 81,000 alumni, it offers more than 90 undergraduate and graduate programs.
It is a proud catalyst for economic and social mobility for its students, almost half of whom are first generation college students.
Courses Offered
One of the most popular medical programs is the phlebotomist training program which takes just a few weeks to complete.
In order to receive a Lehman College program certificate, you must successfully complete all course requirements listed with a grade of C or better.
After completing the program you must take the certification exam from the National Healthcareer Association and become a Certified Phlebotomy Technician.
You need to have a high school diploma to enroll.
Visit School Website

Address: 250 Bedford Park Boulevard West Bronx, NY 10468
Royal Learning Institute

About the School
The Royal Learning Institute was established to provide superior training in healthcare, business and IT for individuals, corporations and state and federal organizations, both in individual or group settings.
Its founders collectively have over 60 years of experience in vocational training, job placement and business development in some of the fastest-growing industry sectors of the times.
Students who attend RLI can expect to expand their knowledge in their chosen field, and lay strong foundations for their future careers.
Its courses are led by dedicated and seasoned instructors with real world experience in their respective specialties.
Courses Offered
An excellent fast-track program at this institute is the phlebotomy program which takes just a few weeks to complete.
In just four weeks for 60 clock hours you can earn your Phlebotomy Technician certificate and be working in the medical field as a phlebotomist.
You will learn the following:
Introduction to phlebotomy
Medical terminology with an overview of anatomy and physiology
Applications and procedures
Career development
Infection control, safety, and first aid
The course costs 500 USD and will prepare you to take the National Phlebotomy technician certification exam.
Visit School Website

Address: 560 S Broadway Hicksville New York, NY 11801
College of Staten Island

About the School
The City University of New York, of which the College of Staten Island is a part, traces its beginning to 1847 and a public referendum that provided tuition-free higher education for residents of New York City.
The College of Staten Island is a senior college of The City University of New York, offering Doctoral programs, Advanced Certificate programs, and Master's programs, as well as Bachelor's and Associate's degrees.
Grounded in the tradition of the liberal arts and sciences, the College of Staten Island is committed to the highest standards in learning, teaching, research, scholarship, and service.
The College is dedicated to helping its students fulfill their creative and educational aspirations through competitive and rigorous undergraduate, graduate, and professional programs.
It embraces the strength of diversity, fosters civic-mindedness, and nurtures responsible citizens for the city, state, country, and the world.
Courses Offered
The phlebotomy training program will give you an excellent career path in just a few weeks of training.
This course costs 1,73 USD and prepares students to accurately and safely draw blood for tests, transfusions, and donations, label samples for testing and processing, and maintain medical equipment.
The phlebotomy/laboratory technician certificate program is offered in partnership with Northwell Health.
Upon successful completion of the course and required clinical hours, students are eligible to take the Phlebotomy Technician certification exam from the American Society of Clinical Pathology.
The classes and labs will teach you the most modern skills and knowledge to help you rock on a new career.
Visit School Website

Address: 2800 Victory Blvd Staten Island, NY 10314
Concord Rusam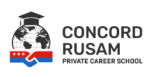 About the School
Private Career School Concord Rusam is dedicated to providing an excellent education, which would lead its students to a lifelong career in highly demanded fields.
The school has cultivated a roster of successful alumni who graduated from its programs and are employed in well-paying positions, such as Clinical Medical Assistant, Nurse Aide, Phlebotomy Technician, Electrocardiography Technician, Home Health Aide, Medical Billing, and Coding, Pharmacy Technicians.
Concord Rusam provides complete theoretic and practical education followed by national examination hosted on school premises.
The school provides personalized job placement assistance for all of our graduates, including assistance with resumes, referrals, and recommendation letters.
Courses Offered
Within 5 weeks, Concord Rusam trains its students to become nationally certified phlebotomy technicians.
The phlebotomy program costs 850 USD with a 50 USD registration fee and will help you get all the skills and knowledge needed to succeed in a few weeks.
You will be prepared to become important members of the healthcare field that are both technically educated and taught how to work one-on-one with patients during the blood collection process.
After graduation and passing the state certification exam the college will also assist you with job hunting.
You need to have a high school diploma to enroll.
Visit School Website

Address: 412 8th Ave, 4th Floor, New York, NY 10001
---
Phlebotomy Schools by City in New York
See all schools in New York >