Modern and with an amazing vibe, Chattanooga is one of the best cities in Tennessee.
The city provides an excellent economy and some of the top-paid jobs in the state.
The educational institutions are excellent and you will quickly find the perfect place to start a new career.
Sponsored Listings
Phlebotomists annual average salary in Tennessee is $32,063 - ABOVE U.S. AVERAGE!
The University of Tennessee

About the School
At the University of Tennessee, you will discover some of the best teachers and educators in the whole state.
The university boldly embraces a passion for excellence in all that it does as it changes lives and transforms communities.
The university is a driving force for achieving excellence by actively engaging students, faculty and staff, embracing diversity and inclusion, inspiring positive change and enriching and sustaining the community.
The extraordinary quality of the education is given by the modern curriculum and it's provided by some of the most dedicated teachers.
The programs are constantly upgraded to provide you with the best job perspectives.
Courses Offered
The phlebotomy training program is excellent in terms of skills and theory and it takes just a few weeks to finish.
UTC's phlebotomy technician academy combines in-depth classroom lectures with hands-on phlebotomy training to ensure your career success.
The program costs 2,395 USD and is suited for any individual wanting to enter the healthcare field.
The fast-paced program requires dedication and attentiveness in order to see the full benefits.
Students who complete the phlebotomy tech program will be prepared to sit for the National Healthcareer Association Phlebotomy Technician Certification exam.
In eleven weeks, you will learn the phlebotomy skills needed to pass the Certified Phlebotomy Technician exam and start your new career.
Visit School Website

Address: 615 McCallie Ave, Chattanooga, TN, 37403
Academy of Allied Health Careers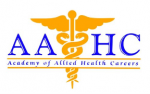 About the School
As a private school, the Academy of Allied Health Careers offers post-secondary educational programs that meet the needs of the current job market.
Its mission is to help students improve their life by preparing them for a career in the medical field.
In doing so, it provides appropriate health-related education for patient-focused care and cross-training of competent medical personnel.
The academy strives to prepare its students to be productive, employable assets to the community and their employer.
Courses Offered
The Academy of Allied Health's phlebotomy program is offered to any individual who has a high school diploma or a GED.
The phlebotomy technician course is a total of 60 contact hours (class time and lab time).
Clinicals are not required, but can be taken once the 60 hours of academic work are completed.
The 5-week program costs 1,975 USD and teaches participants to safely collect and process blood samples for testing.
You will learn proper specimen collection through both venipuncture and capillary.
The program will also cover safety for both the patient and the individual collecting samples.
The skills and knowledge learned in the program will position you for job placement and career success.
It will also put you on track for phlebotomy certification as the course will prepare you for the Phlebotomy Technician Certification national certification exam.
Visit School Website

Address: 5600 Brainerd Road, Suite C-3 Chattanooga, Tennessee 37411
Chattanooga State Community College

About the School
As one of the top community colleges in Tennessee, Chattanooga State Community College is intensely focused on helping you achieve your educational goals with affordable two-year-degree programs that meet the demands of an ever-changing world.
You can choose from hundreds of fields of study and receive help from an advisor at every step along the way.
During your time at the community college, you will be provided the resources you need to succeed in higher education and help you become a part of a vibrant and growing community of students, faculty, and alumni.
Courses Offered
In Chattanooga State Community College's phlebotomy technician certification program, students will become familiar with all aspects related to blood collection and will develop comprehensive skills necessary to perform venipunctures completely and safely.
Classroom training includes the following:
Medical terminology
Anatomy and physiology
Blood collection procedures
Specimen hands-on practice
Clinical training in skills and techniques to perform puncture methods
In addition to more than 80 classroom hours, the program includes 120 hours of on-site clinicals.
Upon successful completion, students will be eligible to take the American Society of Clinical Pathologist National Phlebotomy Certification Exam.
Visit School Website

Address: 4501 Amnicola Highway Chattanooga, TN 37406
---
Phlebotomy Schools by City in Tennessee
See all schools in Tennessee >