Eugene is a fun, beautiful, and developed place to live in Oregon.
The economical environment is great and the state offers some of the best jobs in the state.
The educational institutions are excellent and you will easily find the perfect place to start a new career.
Sponsored Listings
Phlebotomists annual average salary in Oregon is $35,151 - ABOVE U.S. AVERAGE!
Lane Community College

About the School
Nestled in the Willamette Valley, between the Cascade Mountains and the Pacific Ocean, Lane Community College serves more than 25,000 students per year through transfer, career technical, and personal enrichment programs.
Lane Community College is one of the best educational options in the state of Oregon and it offers amazing programs and classes.
The community college provides comprehensive, accessible, quality, learning-centered educational opportunities that promote student success.
The college is very focused on educational quality and it will help you with everything needed.
Courses Offered
The phlebotomy training program takes 2 terms to finish and the tuition cost per term is 799 USD.
Class is held on Tuesdays and Thursdays from 9:30 am to 12:30 pm.
Students must take both terms for successful completion of the course.
Upon successful completion of both terms, the student will have the necessary skills to seek employment.
Once employed for full time (35 hours a week) for one year, they will meet the Route 3 eligibility requirements set by the American Society of Clinical Pathology to qualify to take the national Phlebotomy Technician PBT certification exam at additional cost.
The educational curriculum includes both theory and practice and it will prepare you for an amazing career.
Visit School Website

Address: The Mary Spilde Downtown Center, Suite 119, 101 West 10th Avenue, Eugene, OR
Linn-Benton Community College

About the School
Linn-Benton Community College is a top choice for earning an associate degree or transferring to a four-year college, obtaining employment training, improving existing employment skills, and enriching life through continuing education.
The community college aims to engage in an education that enables everyone to participate in, contribute to, and benefit from the cultural richness and economic vitality of its communities.
At Linn-Benton Community College, its values serve as the foundation that inspires its actions and unites everyone as a community.
As responsible stewards, it is committed to opportunity, excellence, inclusiveness, learning, and engagement.
Courses Offered
Through LBCC's 15-week phlebotomy program, students will learn the fundamentals of phlebotomy, including anatomy and physiology, blood collection techniques, patient care, and laboratory procedures.
The phlebotomy program offers a comprehensive 150-hour total clinical practicum experience as part of the curriculum.
This clinical experience takes place during the last five weeks of the program.
During these five weeks, students have the opportunity to work up to 40 hours per week at a clinical site where they have been placed.
They will gain practical experience through clinical rotations and internships, where they will have the opportunity to work with real patients and healthcare professionals in a variety of settings.
Upon completing the phlebotomy course, students will be well-prepared to take the national certification exam and start their careers as certified phlebotomists.
Visit School Website

Address: 6500 Pacific Blvd. SW Albany, Oregon 97321
Pacific Healthcare Training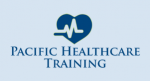 About the School
Located in beautiful Central Point, Oregon, Pacific Health Care training offers healthcare certification programs.
The Oregon State Board of Nursing oversees Pacific Health Care Training's programs.
Its objective is to educate students to be well-trained, highly qualified competent employees who can use their skills to benefit patients and employers.
Courses Offered
Pacific Healthcare Training has a mission to provide up to date, state of the art phlebotomy training.
Its phlebotomy program is 48-hour didactic hands-on training where students will learn basic venipuncture with both a straight needle and butterfly needle, tourniquet tying, capillary puncture, order of draw, and lab processing.
Pacific Healthcare Training students do not do a clinical externship outside of the classroom
It offers an extremely hands-on program allowing students ample opportunity to get their blood draws done in class.
Students accepted to the phlebotomy program at PHCT must agree to do 30 blood draws in class and practice on each other.
Tuition fee for the phlebotomy program is 1,500 USD.
Visit School Website

Address: 236 E. Pine St. Central Point, OR 97501
---
Phlebotomy Schools by City in Oregon
See all schools in Oregon >