Oklahoma City is one of the largest and most famous places to be in Oklahoma.
The economy and business sectors are very healthy and they provide excellent jobs.
The schools, colleges, and universities in this city are amazing and they offer something suitable for everyone.
Sponsored Listings
Phlebotomists annual average salary in Oklahoma is $33,175 - ABOVE U.S. AVERAGE!
Metro Technology Centers

About the School
Metro Technology Centers prepares people for successful employment and life in a global society.
It aims to be recognized as a strategic partner in economic development by preparing a high-quality workforce.
The technology center provides the highest quality programs and services enabling students to succeed in their chosen career field.
It is committed to comply with requirements and continually improve the effectiveness of teaching, learning, and the quality management system, based on customer needs and expectations.
Courses Offered
The 60-hour phlebotomy course consists of lecture and lab that provides knowledge of equipment, OSHA's blood-borne pathogens and mechanics involved in the collection of specimens.
You will practice and learn how to do all areas of puncture safely and properly.
You will study complications in phlebotomy and special collection procedures.
After completing all aspects of the phlebotomy course and meeting the required criteria, you may be eligible for a day-time internship.
Information on the internship is provided the first day of the phlebotomy course.
Visit School Website

Address: 101 N Robinson Ave, Ste 300 Oklahoma City, OK 73102
Central Tech

About the School
Central Tech is a top performer in the Oklahoma CareerTech system ranking high in job placement for graduates.
It is the only technology center to be awarded the Gold Star School Award for excellence in technology education since inception in 1990.
The first classes were held on the new campus on August 22, 1970.
A second campus was developed in Sapulpa in 1978 in a former discount retail center on the city's south side.
Today, Central Tech serves more than 22,000 enrollments and provides customized business and industry training to more than 500 area businesses.
The programs available at this center are focused on the current needs and trends of the job market and industries, guaranteeing you the best chances to get a new career path.
Courses Offered
Phlebotomists collect blood for testing so it can be analyzed in a clinical laboratory.
Blood tests are used to diagnose illness, evaluate the effectiveness of medications and determine whether a patient is receiving proper nutrition.
The 88-hour phlebotomy program at Central Tech costs 660 USD including tuition, fees, and supplies.
Students perform venipuncture on each other in class.
You will learn the following:
The healthcare setting
Quality assurance
Infection control
Overview of the human body
The circulatory system
Blood Collection Procedures
Order of draw
Venipunctures
Capillary punctures
The 40-hour clinical rotation is required to complete course.
Clinical rotations will be scheduled by the instructor at sites with which Central Tech has a current clinical contract.
During this time, you will learn all the techniques, skills, theory and tricks to quickly get an entry-level position.
Visit School Website

Address: 3 CT Circle Drumright, OK 74030
MedNoc Training College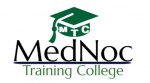 About the School
MedNoc Training College is an institution of learning devoted to offering career training programs aimed at helping students gain knowledge and skills needed for employment.
MTC programs are centered on students and the employer's needs.
Its courses are short in length; but broad, rich, deep in detail, and quality.
All programs at MTC are offered at the school and require strict attendance and active participation.
The school offers daytime, evening/night, and weekend classes.
Courses Offered
The phlebotomy technician course is a 178-clock hour program led by a licensed nurse who is the instructor.
The phlebotomy technician class is structured and designed to teach the knowledge and skill development in performing a variety of blood collection methods, using proper techniques, and following standard precautions.
These include vacuum collection devices, syringes, capillary skin punctures, butterfly needles, blood culture, and specimen collection on adults, children, and infants.
Upon successful completion and graduation from the program, the student will be awarded a certificate of completion and a training verification form.
After passing the National Healthcareer Association National Certification Examination, the graduate shall be certified Nationally as a Certified Phlebotomy Technician.
You need to be at least 18 years old and have a high school diploma to enroll.
Visit School Website

Address: 1501 SW 59th Street Oklahoma City, OK 73119
---
Phlebotomy Schools by City in Oklahoma
See all schools in Oklahoma >