Louisville is a fun and developed city located in the heart of the state of Kentucky.
The business sector and economic development offer amazing job and career opportunities for everyone.
The educational system is excellent and you will easily find the perfect place to start a new career.
Sponsored Listings
Phlebotomists annual average salary in Kentucky is $33,210 - ABOVE U.S. AVERAGE!
Campbellsville University

About the School
Campbellsville University is the go-to place to start a career in the state of Kentucky.
It is a comprehensive, Christian institution that offers non-credit technical programs, along with certificates, associates, undergraduate and graduate programs.
It is dedicated to academic excellence solidly grounded in the liberal arts that fosters personal growth, integrity and professional preparation within a caring environment.
The university managed to develop some of the best programs and a very modern curriculum suitable to the needs of both students and the job market.
Courses Offered
The trainers and teachers are very professional and they will assist you with everything needed in terms of guidance and education.
The phlebotomy training lasts 3 to 4 months and includes 50 hours of classroom time and 100 hours of clinical experience, with a maximum class size of 15 students.
The program costs 2,600 USD and includes tuition, textbooks, a drug screen, background check, malpractice insurance, and the national exam fee (payment plans are also available).
There is a 400 USD non-refundable deposit fee to reserve a spot in the course.
The phlebotomy program is also accredited by the National Center for Competency Testing.
With the help of this program you will be ready to enter a very dynamic medical field.
Visit School Website

Address: 1 University Drive Campbellsville, KY 42718
Kentucky Community & Technical College System

About the School
Kentucky Community and Technical College System enhances the quality of life and economic vitality of the Commonwealth by serving as the primary provider of college and career readiness, transfer education, workforce education, and employment training.
Its colleges are focused on your unique needs and aspirations and offer programs and courses that are relevant to you and are respected by companies in your area.
KCTCS aims to be the primary provider of skilled talent to grow Kentucky.
Courses Offered
KCTCS offers a very comprehensive phlebotomy certification training program.
You will be prepared as an integral member of the health-care team to collect blood from patients/donors in hospitals, blood banks or clinics for analysis or other medical purposes, including standard precautions, record keeping, and therapeutic communication skills.
You will learn the following:
Medical ethics
Laboratory terminology
Anatomy and physiology of the circulatory system
Communication and record keeping
Specimen processing
Laboratory safety
Isolation procedures and special collection
You will develop performance skills in routine venipuncture and capillary collection procedures emphasizing performance skills in routine venipuncture and capillary collection procedures.
The course will allow you to use external institutions for clinical experience to become more proficient in the performance of routine venipuncture and dermal collections.
It will provide you the experience needed to handle routine venipuncture complications and the skills necessary to adequately perform the duties of a phlebotomist.
Visit School Website

Address: 300 North Main Street Versailles, KY 40383
Emergency Medical Training Professionals, LLC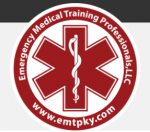 About the School
Emergency Medical Training Professionals, LLC was created in 2007 with one goal in mind, which is to train and educate quality EMS providers.
The training school wants its students to become essential members of medical teams and to be excellent pre-hospital and in-hospital professionals, not to simply pass the national examinations.
It offers small class sizes, a great deal of hands on experience and attention, as well as flexible class schedules at affordable prices.
Its classes are taught by knowledgeable, friendly and dedicated educators.
Courses Offered
At the EMTP Phlebotomy Technician Program, you'll receive comprehensive phlebotomy training that combines classroom instruction with hands-on experience.
The is designed to prepare you for national certification, which can help you stand out in the job market and increase your earning potential.
You'll learn the skills needed to successfully collect blood samples from patients, including proper technique, safety precautions, and how to handle difficult patients.
If you're looking for phlebotomy classes that provide a hands-on approach to learning, the EMTP Phlebotomy Technician Program is a great option.
Its experienced instructors will guide you through the process and help you gain the skills needed to succeed as a phlebotomist.
Visit School Website

Address: 1141 Red Mile Road | Suite 101 Lexington, KY 40504
---
Phlebotomy Schools by City in Kentucky
See all schools in Kentucky >