Lexington is a beautiful, dynamic, and developed city in the state of Kentucky.
The economic environment is excellent and it will help you quickly get a new job.
The educational system is great and it will offer you a wide variety of program suitable for you career dreams.
Sponsored Listings
Phlebotomists annual average salary in Kentucky is $33,210 - ABOVE U.S. AVERAGE!
Kentucky School of Phlebotomy

About the School
Kentucky School of Phlebotomy is a dynamic educational institution focused on community education and specializing in training for phlebotomy and related health careers.
The school is committed to teaching the essential fundamentals for starting a career in healthcare.
Its students gain valuable experience in both hands on skills and understanding the theories essential to practice.
The primary goal of the school is to share its experiences in the field of medicine to produce students whose skills are exceptional and whose understanding of safety is superior.
It offers the best in class training at an affordable price.
The programs are carefully designed to offer you the most relevant and modern information.
Courses Offered
The phlebotomy technician program is excellent and it takes around 7 weeks to finish.
The phlebotomy training classes are comprehensive and emphasizes a "hands-on" method  in which each student will draw blood at least once in every class.
It contains 6-weeks of lecture, discussion, and practical instruction in the lab, followed by a 40-hour clinical externship at a local patient service center, hospital or clinic.
The hours of the externship are site-specific and are usually done over the space of one week, Monday through Friday.
You will learn the following:
Venipuncture with Vacutainers, Butterflies, and syringes
Finger and heel sticks
Blood and blood components
Test tubes, uses, additives, and order of draw
Bleeding time, blood cultures, glucose tolerance testing
Difficult draws and tricks of the trade
Universal precautions and safety
The tuition cost is around 500 USD, a laboratory fee of 150 USD, an externship fee of 100 USD, registration fee of 50 USD, and the cost for materials and textbooks is 100 USD.
Visit School Website

Address: 1425 Bluegrass Ave. Louisville, KY 40215
KY Healthcare Training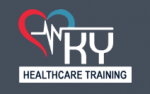 About the School
KY Healthcare Training has provided hands on skilled care training for healthcare professionals in Lexington, Kentucky since 2007.
The KY Healthcare Training staff's sole purpose is to make each student successful so that they can take the practical skills they learn at KY Healthcare Training back to their local community.
The training school helps students receive the skills, knowledge, and certification needed to gain employment in their area of study.
Courses Offered
The phlebotomy program at KY Healthcare Training is a 100 hour class.
60 hours are completed in the classroom and 40 hours are completed in an approved clinical site.
You will learn the following:
First aid
CPR-American Heart
Blood borne pathogen training in accordance to ASHI standards
Upon successful completion of the program, you will be eligible to take the National Healthcare Association Phlebotomy exam.
And then, you will be able to work in a hospital, lab or doctor's office and perform venipuncture and microcapillary sticks on adults.
Visit School Website

Address: 343 Waller Ave. Suite 309 Lexington, KY 40504
The Medical Institute of Kentucky
About the School
The Medical Institute of Kentucky paves the way to a healthcare career with the best training in the business at a price you won't find anywhere else.
Its limited class sessions give you the best of both worlds: hands-on, real-world skills and total flexibility.
It provides a comprehensive range of support, including course and study materials, exam study guides, and career development assistance.
Courses Offered
The phlebotomy technician program at TMIKY provides instructional and laboratory procedure simulations and is completed in up to 14 weeks.
You will learn the following:
Cardiovascular anatomy and physiology
Medical terminology
Medical law and ethics
Safety and infection control
Venipuncture equipment and procedure,
Dermal puncture equipment and procedures
Venipuncture complications
Upon successful completion of the phlebotomy technician program, you will be issued a certification by the American Medical Certification Association.
Visit School Website

Address: 2704 Old Rosebud Rd, Lexington, KY 40509
---
Phlebotomy Schools by City in Kentucky
See all schools in Kentucky >