Columbia is one of the largest and most dynamic cities in South Carolina.
The city has a very healthy and developed economy that constantly offers amazing jobs.
In terms of education, Columbia has schools and colleges suitable for any career dreams and plans.
Sponsored Listings
Phlebotomists annual average salary in South Carolina is $33,034 - ABOVE U.S. AVERAGE!
Southeastern College
Southeastern College is an excellent educational choice if you are looking for a modern and developed institution to start your education. The college is located in an excellent area for student life and the campus is very friendly and dynamic. In terms of educators, the college has some of the top-trained educators in the state.
The phlebotomy program runs for just 7 weeks and it will prepare you for entry-level positions in the medical field. The program is focused on the most useful and relevant skills to give you the needed training for a successful career.
Visit School Website

Address: 1756 N Congress Ave, West Palm Beach, FL 33409
Carolina Career School & Technical Institute

Carolina Career School & Technical Institute is an excellent place to start the career of your dreams and learn from the best professionals in the state. All the programs are focused on the current trends and needs of the job market and they will help you quickly become an amazing professional. In addition, all the programs are recognized at the national level.
The phlebotomy training program takes just 50 clock hours to finish and it will teach you everything needed to quickly enter this dynamic and developing medical profession. Upon graduation, the school will also help you in finding the best program for your skills.
Visit School Website

Address: 605 Northwood Drive, Lexington, SC 29072
Quality Healthcare Skills LLC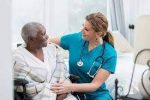 Quality Healthcare Skills is one of the best places to start a medical career in the state of South Carolina. The institution carefully selected some of the best programs that will have great growth in the next years. The educators and teachers are all experts in the field that they teach and they have lots of secrets and tips to share.
The phlebotomy training program is excellent for your future career and it takes just a few weeks to finish. The tuition fee is 850 USD without the cost of materials and the certification exam.
Visit School Website

Address: 3935 Sunset Blvd, West Columbia, SC 29169
---
Phlebotomy Schools by City in South Carolina
See all schools in South Carolina >