Phoenix is a fun, vibrant, and developed city located in the heart of the state of Arizona.
The city has one of the best economies in the state and guarantees excellent jobs.
The schools and colleges are excellent in terms of quality and offers amazing programs.
Sponsored Listings
Phlebotomists annual average salary in Arizona is $34,893 - ABOVE U.S. AVERAGE!
Arizona College

About the School
Arizona College is a hot and dynamic place to start your education and discover a new career path.
The curriculum and programs are very modern and they are designed and developed by some of the best experts in practical and theoretical education.
The staff is very friendly and they will assist you with everything needed during your studies.
Courses Offered
The phlebotomy program is very high-quality and it integrates all the needed skills and theory to draw blood from any type of patient.
The college also offers the option to take the Registered Phlebotomy Technician Certification Examination test online or at any location of your choice.
In 4 to 6 weeks after passing the exam, you will receive your phlebotomy diploma verifying your certification, which is valid for 3 years.
Visit School Website

Address: 4425 W Olive Avenue Glendale, AZ 85302
Brookline College

About the School
Brookline College is a modern, developed, and friendly place to start a new educational program and forge a new career.
The college campus is rather small but it integrates everything needed for a comfortable and efficient stay.
The college is focused on the future career of each student and it will also assist you during the job hunting period.
Courses Offered
The phlebotomist program includes 646 contact hours that can be done in 34 weeks of training.
Classes start at 8:00 am to 12:00 pm for 5 days a week.
You will learn the following:
Safe and expert drawing of blood from patients
Preparation of blood samples for testing
Offering support to other members of the healthcare team
Tuition costs vary depending on individual situations such as location and financial standing.
Financial aid options are available to students who qualify.
This program will prepare you for any type of position in this industry and it will grant you an amazing career.
Visit School Website

Address: 2445 W. Dunlap Ave. Phoenix, AZ 85021
Phoenix College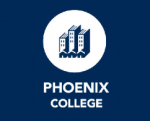 About the School
Phoenix College is an excellent educational choice in Arizona and it will help you find the perfect educational program for your skills and dreams.
The programs are very comprehensive and they integrate the most modern and useful information and skills.
The professors and teachers are very well-trained and they will help you at every step of your education.
Courses Offered
The 11-week phlebotomy training program includes 120 hours of clinical practice.
You will learn all the anatomy, skills, techniques, and safety procedures needed to succeed in this field.
Tuition and course fees do not include books and amount to 1,000 USD.
To be admitted to the program, you must have a high school diploma or GED.
You will learn the following:
Safety and government standards and compliance in a phlebotomy setting
Critical thinking skills, ethical and professional conduct in phlebotomy practice
Efficient communication and customer service skills
Quality assurance and control in specimen handling and transport
Problem solving and troubleshooting in phlebotomy practice
This program is particularly useful given the constant growth of this industry.
Visit School Website

Address: 1202 W Thomas Rd Phoenix, AZ 85013
Southwest Skill Center

About the School
Southwest Skill Center is ready to help everyone start a new career, no matter the previous job or experience.
This center is focused mainly on vocational and practical programs that will boost your chances to start a flourishing career.
The educational board is very future-oriented and they will help you find the next step for your career.
Courses Offered
The phlebotomy program will grant you some of the best skills and theory in the state and it will help you finish your training in just a few weeks.
For a certificate of competency in phlebotomy, the program is scheduled for 6 hours a day for four days from Monday to Thursday.
Th program costs 2,005 USD for 300 hours in 3 to 4 months, which includes tuition, laboratory, and book fees.
At the end of this program you will be ready to get an entry-level job in this amazing career.
Visit School Website

Address: 3000 N Dysart Rd Avondale, AZ 85323
---
Phlebotomy Schools by City in Arizona
See all schools in Arizona >